Paul Uehlinger, Steve Wildman, John Willingham, Woody Woodside




Colonel John S. Childress, ANG, receives The Arland D. Williams Award
John received The Arland D. Williams Award postumously during the Homecoming parade on Saturday, November 10, 2001. The award is presented for community service. John stayed with his failing airplane in order to guide it away from populated areas before it crashed. What a fitting tribute to such an outstanding Citadel graduate! Below is the text that was used during the presentation.
John S. Childress, The Citadel Class of 1970, is recognized by The Citadel Alumni Association and The Citadel, The Military College of South Carolina, for having made the ultimate sacrifice for his fellow man.

John Childress died in a jet aircraft accident June 18, 1998, in Manchester, NH, while attempting to avoid having his crippled aircraft slam into a heavily populated area around the airport. John piloted his aircraft into the only empty plot of land in the immediate area, thus avoiding nearby businesses, a school, homes, and highway traffic. He ejected from the aircraft immediately prior to impact, but died when his parachute failed to fully deploy. John Childress died so others could live. The National Safety Transportation Board summed up John's actions as "an extreme act of courage". Other aviation experts agreed that John Childress "lost his life to save others" by delaying ejection until the last instant to keep the jet from slamming into populated areas. Among his immediate friends, the collective thought was that this action is exactly what they thought John would take in a situation like this.

John Childress, a Citadel man, devoted husband and father, a model of how a life should be lived, set an example of bravery difficult to match. Just like Arland D. Williams, John thought of others first and made the ultimate sacrifice. This is the highest form of community service, when one sacrifices his life so that others may live. John Childress is hereby inducted into the Arland D. Williams Society.
Scott & Corley, P.A. partner recognized by University of South Carolina School of Law with Platinum Medallion, school's highest alumni award
(L-r) Carter Scott, Robert Scott, Debbie Scott, Ron Scott, Jordan Scott Medley, and David Medley.
The Columbia law firm of Scott & Corley, P.A., has announced that firm partner, Ronald "Ron" Charles Scott, was honored April 27 at a sold-out dinner event as a 2023 recipient of the Compleat Lawyer Platinum Medallion Award, the highest such alumni honor bestowed by Scott's law school alma mater, the University of South Carolina School of Law.
A 1976 graduate of the law school, Scott was one of three attorneys to receive the 2023 Platinum Medallion award as he joined with the other Platinum Medallion recipients, Rebecca Laffitte ('83) and William Witherspoon ('91). Platinum Medallion recipients are individuals who have practiced for at least 31 years or more, and "who have made significant contributions to the legal profession and community and exemplify the highest standards of professional competence, ethics, and integrity." The 2023 Selection Committee was comprised of the Honorable Donald Beatty, Chief Justice of the South Carolina Supreme Court; Honorable Bruce Williams, Chief Judge of the South Carolina Court of Appeals; William Hubbard, Dean of the University of South School of Law; Hagood Tighe, President, South Carolina Bar; Alysja Carlisle, President, Law Alumni Council; and Aleia Hornsby, president, Young Alumni Council.
Prior to his enrolling in law school, Scott graduated from The Citadel, the Military College of South Carolina, as one of only four members of his class to earn and be awarded each of the following designations: Academic Departmental Honors Graduate, The Citadel Honorary Society Key Graduate, and the prestigious Distinguished Military Student("DMS") leadership designation. He also received a President's Special Recognition Award at graduation. After graduation from The Citadel and following active-duty military service during which time Scott graduated from the Adjutant General's Officers' School of the United States Army as a First Lieutenant, he next matriculated into University of South Carolina School of Law in 1973. In addition to his law degree, Scott holds both a master's degree in business ("MBA '72") and master's degree in accounting (M.Acct.'76) from the University of South Carolina's Darla Moore School of Business. He has also participated in and completed the summer 1980 Program of Instruction for Lawyers then offered by Harvard Law School.
With a multi-decade focus on public, civic, and community service, Scott has been recognized as a 2017 recipient of the Order of the Palmetto, the state's highest civilian award for individuals who demonstrate extraordinary lifetime achievement, service, and contributions of a national or statewide significance. He was further honored on October 12, 2017, with the unanimous proclamation establishing "Ronald C. Scott Day" by the then Mayor and City Council of the City of Columbia. Scott was previously selected for the 2018 inaugural class of the South Carolina Lawyers Hall of Fame by South Carolina Lawyers Weekly ® as well as being a 2019 Diversity and Inclusion Inaugural Class by South Carolina Lawyers Weekly/ North Carolina Lawyers Weekly®. He was also selected as an Icon member (10 total) of the 2019 inaugural class of the Icons and Phenoms by Columbia/SCBIZ Report® and he was also named a "Go To" Lawyer for Business Law by South Carolina Lawyers Weekly®. Scott also appears for inclusion in the peer reviewed Super Lawyers® (Thomson Reuters) and Best Lawyers in America ® (Woodard/White, Inc.) as well as having achieved the highest attorney peer review rating of AV (5.0 out of 5.0) by the national peer review attorney rating service, Martindale-Hubbell®. In addition, Scott is a past chair of the SSF Division of the S.C. Bar with service in the House of Delegates as well as being part of the Liberty Legacy and Life Fellow categories of the South Carolina Bar Foundation.
Scott has tried to embrace his multigenerational family philosophy of "giving back" and "paying it forward" in his public, community, and civic service outreaches as evidenced through his endowment of multiple awards and scholarships to the following institutions: The University of South Carolina School of Law, The Citadel, Furman University, Francis Marion University, Columbia College, and Hammond School. For his philanthropic efforts with his undergraduate alma mater, Scott has been inducted into the Summerall Society of The Citadel Foundation as well as having the College's Baker Business School Faculty Lounge named in memory of his late parents.
Also in attendance at the awards dinner event were Ron Scott's wife, Debbie, and their three children: Robert, senior partner of the Tallahassee based law firm of Scott & Wallace LLP; Jordan Scott Medley, co-owner of Charley's Clothing, with her husband, David; and Carter Scott, shareholder in the West Palm Beach and Tallahassee based law firm of Searcy, Denny, Scarola, Barnhardt, & Shipley. Other notables in attendance were well-known Columbia area attorneys Kathy Dudley Helms, Leigh J. Leventis, and Reginald P. Corley, managing attorney and President of Scott & Corley, PA, who collectively were the nominators and endorsers for Scott's selection.
Past recipients of the Platinum Medallion involve some of the state's most visible attorneys, including former South Carolina governors, South Carolina Bar presidents, state court senior judges, deans of the USC Law School, presidents of major state and national attorneys' groups and associations, senior leaders (Speakers of the House) of the South Carolina General Assembly, and other highly respected attorneys and public service leaders from the University of South Carolina Law School Alumni community.
The University of South Carolina School of Law was established in 1867 and was at that time among the first 30 law schools in the country. Dean of the Law School William C. Hubbard, a nationally recognized attorney and educator, and The Honorable John C. Few, Justice, South Carolina Supreme Court, presented Scott and the two other recipients, Becky Laffitte and William Witherspoon, with their respective Platinum Medallions.
Class of 70 Athletic Hall of Fame Members
John Wood- "I" Company/Regimental Staff- Wrestling- Hall of Fame Class of 2009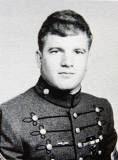 John was the first recipient of a full scholarship for wrestling at the Citadel. He had a spectacular 78-4 career record in the 123- pound weight class. He qualified as a sophomore and junior for the NCAA Tournament and was named the Southern Conference's Most Outstanding Wrestler in 1969. John never lost a home match. He twice qualified for the Olympic tryouts, twice won the Southern Open, the Georgia Tech Open, First Colonies Tournament, and twice won AAU Tournaments. John served on the Regimental Staff as a Captain, was a Dean's List student, listed in Who's Who in American Colleges and Universities and was a Distinguished Military Student. John was the Wrestling team Captain his senior year.
John went on to get his Master's Degree from the University of North Carolina and then begin a long and successful teaching and coaching career at the North Carolina School for the Blind in Raleigh where he won 25 of 28 Eastern Athletic Association for the Blind championships. He officiated in numerous amateur wrestling tournaments in NC for 25 years. In 2008 he was inducted into the North Carolina Chapter of the National Wrestling Hall of Fame.
Anthony J. Passander- "A" Company- Football- Hall of Fame Class 1984

Tony Passander set a number of school records as starting quarterback from 1967 to 1969...most touchdowns- 22, top passer for three straight years, and ranks among the top 10 on the Citadel's career passing charts (3,109 yards) and in total offense (3,552 yards). He also had four 200 plus yard games. After graduation, Tony played professionally for the Montreal Alouettes in the Canadian Football league.
John K. Small- "A" Company- Football- Hall of Fame Class 1977 ( Inaugural Class)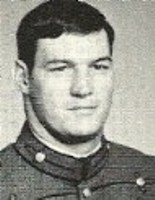 John was a linebacker for the 1967 to 1969 teams and earned All-Southern Conference honors as a sophomore and a senior and was selected Second-team Associated Press All-American. As a senior, John captained the team. He was also named All-American by The Sporting News and UPI. He played in the East-West Shrine Bowl, the 1970 College All-Star Game, and the 1970 Senior Bowl. John was a first-round draft pick in the NFL and was chosen by the Atlanta Falcons. He later played for the Detroit Lions. John was a 2nd Lt in "A" Company and also won the prestigous Palmetto Medal his senior year.
Class of 70 Military General Officers
Major General Sorason Nunbhakdi- "I" Company- Royal Thai Army
Sonny was the Guidon Corporal, a S/Sgt, and 1st Lt in "I" Company. In addition to many school activities, he was on the Junior Sword Drill. After graduation, he became a "mover and shaker" in the Royal Thai Army. He worked for the Royal Thai Embassy, and, as a captain, was Company Commander in the Thai Royal Guard in Bangkok. He was assigned to the Office of the Deputy as Commander-in-Chief of the Army Operations Center in 1993. In 1997, he served in the Thai Royal Army Logistics Department and Internal Security Operations Command. Sonny passed away at a much too young an age on January 15, 1999.
Brigadier General Harry B. Axson, Jr.- "T" Company/ 4th Battalion Staff- United States Army

Harry was a corporal, S/Sgt, and 1st Lt in "T" Company and, as a senior, on the 4th Battalion Staff. He was very active in school activities. He was on the Junior Sword Drill Platoon.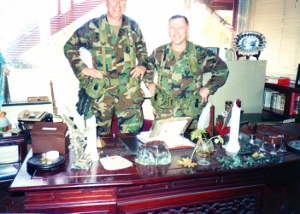 Harry and Marsh Helena- A Class of 1970 Mini-reunion at the desk of Manuel Moriega's desk- Panama City 1989.
For a full accounting of Harry's extraordinary career click on his picture on the In Memoriam page.
Major General Kenneth R. Bowra- "G" Company/Regimental Staff- United States Army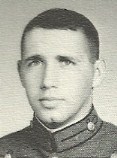 Ken was a corporal, Sgt, and Captain in "G" Company and, as a senior, on the Regimental Staff. He was a Distinguished Military Student (DMS), and his senior year, Commander of the Ranger-Airborne Club. During his 33 year military career, Ken held many important positions of leadership. Just a few of the highlights are:
Special Forces reconnaissance team leader in MACV-SOG during the Vietnam conflict and advisor to Cambodian infantry units.
Bravo Company Commander, 2nd Battalion (Ranger), 75th Infantry.
Commander, 2nd Battalion, 5th Special Forces Group (Airborne).
Commander, 5th Special Forces Group (Airborne).
Service with the Joint Special Operations Command (JSOC).
Commanding General, Special Operations Command South, U.S. Southern Command.
Deputy Commanding General, U.S. Army Special Operations Command.
Commanding General, U.S. Army Special Forces Command.
Commanding General, U.S. Army John F. Kennedy Special Warfare Center and School.
Deputy Commander, KFOR, NATO's Kosovo Force (KFOR).
Assistant Chief of Staff/Operations Director, Allied Forces Northern Europe. Led the establishment NATO's first European forces into Afghanistan.
After Ken's retirement from active duty, he continued to serve our country. He continues to be a senior mentor to our U.S Joint Service Command, was in the Security Directorate at Oak Ridge National Laboratory, and was a member of the Standing Committee that is responsible for R & D for equipment for our Special Forces.
Today, Ken is still hard at work being a senior Foreign Service Officer in the Department of State and serves at the U.S. Embassy in Riyadh, Saudi Arabia where he leads an interagency security effort.
On December 16, 2011, Ken was inducted into the Special Forces Hall of Fame as a Distinguished Member of the Regiment.
Class Novel/Book Authors
Terry Kneen- "F" Troop: The Long Ago Memories of an Old F Troop Knob: Click here to read.
Jeff Koob- "L Company: Two Years in Kingston Town
Dennis Dunham- "O" Company: Alice Visits Heaven
Tom Moore- "B" Company: No Villains, No Heroes
Tom Moore- "B" Company: The Hunt for Confederate Gold
Tom Moore- "B" Company: The Man Who Lost The Civil War
Tom Moore- "B" Company: A Fatal Mercy
B. Thomas (BT) Marking- "I" Company: Amendment XXIX
George Olney- "D" Company: Frenchy, Frenchy II, and Guard at the Gates of Hell.
Terry Kneen- "F" Troop: The Knobs of Discipline- One Thousand Nine Hundred and Seventy- Facts About The Class of 1970: Click here to read
John I.Moore, Jr.- 2BS/"M" Company: Compiler Design Using JAVA: An Object Oriented Appropach (Third Edition)
John I.Moore, Jr.- 2BS/"M" Company: Compiler Design Using KOTLIN: An Object- Oriented Appropach (Second Edition)
Jeff Koob- "L" Company: Ad Nauseam