1970 Home
Reunions
Class News
Memories
Email
In Memoriam
Special Recognition
Our Fathers' Stories
Charleston
Feedback
'70 Classmates and Wives at the Oyster House 14 October 2023

Left to right...Jim and Annie Pinson, Bruce and Phyllis Adkins, Jack and Dean McCormick, Ken and Wanda Webb, Louie and Debra Nye, Kathi Kretzer, Teresa and Quito McKenna, AJ Czernicki, seated- Neel and Missy Long.
A Company Mini-Reunion- 4-6 February 2022
Pictured left to right: Ed Steers- '68, Walt Radencic, Lee Besse, Wyndham Manning, John Parker, Bob Alford, Gerald Stelling, and Jesse McDougal. Not pictured: Talmadge Askins.
A COMPANY, CLASS OF 1970 got together at Mansfield Plantation in Georgetown over the weekend of 4 February 2022. The guys and their ladies had a wonderful time. Several of the folks missed the 50th Reunion so they decided to have a Mini-Reunion. They spent several days just being with each other and having great food. Mansfield Plantation is owned by John and Sallie Parker- A Co- '70. It was started as a rice plantation in 1718. Dr. Francis S. Parker took ownership in 1841. There is much history in the old buildings which are still there. John has been renovating the buildings including the slave buildings and chapel. We all took the full tour of the property and visited the museum which shows much of the history.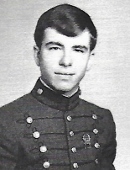 Lucien "Lucky" Lane- H Company, was elected to the Alumni Board of Directors for District 11- Georgia. He has 7 Citadel Clubs in his area. Lucky was an English major, a Brigadier Features Editor, in the English club, The Polytechnic Literary Society, Dean's List- 2, on the Newman Foundation, and on the Public Relations Committee.
Pictured Left to Right: LtCol Henry "Buck" Weaver- '41, MajGen Bob Waudby- '59, Col Rob Wright- '70, Craig Hill- '70, Col JD Crawford- '70, MSgt John Hunter- '70, Col Marsh Helena- '70, and MajGen Ken Bowra- '70.
Back in 2015, JD Crawford had a mini-Reunion at his home in Birmingham, AL. Ken Bowra was the guest speaker at the Birmingham Chapter of the Military Officers Association of America's monthly meeting in February. The next day they toured the Northern Southern's railroad operations in Irondale, AL and visited the Confederate Cemetery at Shelby Springs, AL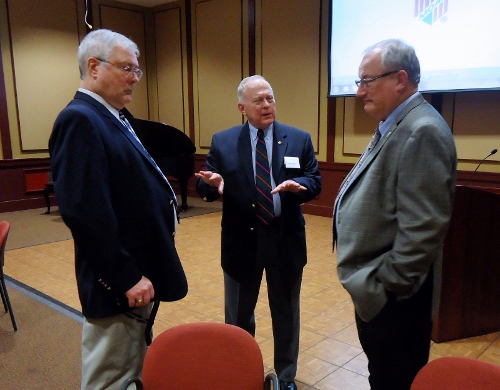 From Left to Right- John Hunter, Marsh Helena, and Craig Hill
In the picture, Marsh Helena is telling a tale...."There I was, guys. First breakfast as a knob...sittin in the hot seat...the Mess Carver growled at me to pass the grits. GRITS??? I never heard of such a thing. What does a grit look like? Well, that meal did not end well....!
F- Troop classmates paid Ronnie Beasley a surprise visit to celebrate Veteran's Day on 7 Nov 2015. They had a cake and everything. Attending were John Skorupski, Mike Hearn, Bill Strong, Terry Kneen, Wally Dill, Rusty Hanna, Dave Hewes, Mickey Thompson, Harry Rollins, and Jimmy Youmans.>

Click here see pictures of the visit.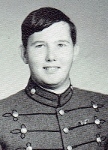 On 21 February 2015, Jim and Annie Pinson hosted a Class of 70 Oyster Roast at their house. There was enough food, other than oysters, to feed an army. Annie and all the ladies out did themselves. Jim also presented a beer and wine tasting from his home-made stocks. Several of our cadets were invited and they emphatically showcased the fact that The Citadel is still a great institution. Very fine young men and women! Thank you Jim and Annie for all your hard work.
Click here to see pictures of the Oyster Roast- 2015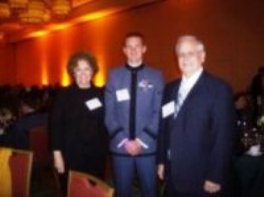 Binks Franklin- "L" Company and 3rd Battalion Staff and his sister Nancy Reynolds attend the Citadel Scholarship and Donors Dinner at The Citadel on 1 March 2013 for the "Named" scholarship of Fred J. Carter, Class of 1967. Fred was married to Nancy in 1968 and died in Vietnam in 1969 while flying the F-4 Phantom jet fighter. The recipient for his scholarship this year was cadet Stewart Gress of Mt. Pleasant, SC, Class of 2014, "G" Company, majoring in Business Administration. I learned from Stewart that evening meals, for the most part, are not mandatory and are buffet lines. There are no mandatory formations for dinner but the Corps does march to breakfast and lunch. Also, Buddy Coward was at the scolarship dinner and he was looking quite dapper.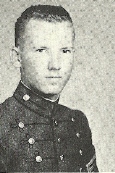 Dan Henk ( Col-USA Ret)- "N" Company and his wife of 42 years, Eva, live in Montgomery, Al. Dan retired from the Army in 1999 in order to help set up the African Center for Strategic Studies (ACSS). He served as the Center's Chairman of Security Strategy for two years, then went "on the dark side" and accepted a teaching position at the Air War College, Maxwell Air Force Base, AL. In 2066, he became the Director to the newly established Culture and Language Center- at the AWC. Dan and Eva look forward to the "second retirement", to the mountains of North Carolina, very soon.
While at school, Dan was a "N" Company corporal and 2Lt. He was on the Ring and Invitation Committee, Phi Alpha Theta, Dean's List all 4 years, the Flying Club, Ranger Airborne Club, the Society of American Military Engineers, and the Rod and Gun Club.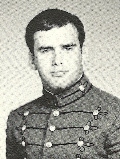 Bill Utsey- "L" Company and his wife of 40 years, Janet, are building a new home in Clemson, SC. (ED note: Bill said something about the Boo yelling at him that he shoula gone to Clemson in the first place, Bubba!...gota love that Boo!!!) Bill is currently the Director of Athletics for Greenville County Schools, SC ( since 1995) and living in Simpsonville, SC. He was also the Principal for four years at Wade Hampton High School from 2001 to 2005. Bill loves his job in the school system and has many chances to speak directly with high schoolers, always portraying the Citadel's virtues to the best advantage, lets them hold his ring, and reminds them that "they accept women now". He gives his "Citadel experience" credit for allowing him to make sure that positive experiences flourish in his school district for all the students. Bill and Janet's two grown daughters are doing great...Brenna, a senior sales rep for Synnex Corp and Mary Ester a registered nurse at Roper Hospital in Charleston.
While at school, Bill was a "L" Company corporal, played football for 3 years, was on the Senior Class Board of Directors, Sigma Epsilon Pi, Fellowship of Christian Athletes, and Charleston Evening Post-News and Courier Scolarship.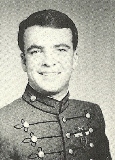 John Norris (Brown)- "L" Company and his wife, Gunn, live in Raufoss, Norway( since 1996). After retiring from the US Air Force in 1993, John began working for a Nordic Ammunition (NAMMO) company, selling Norwegian ammunition around the world to FRIENDLY DEFENSE FORCES. He plans to retire for the second time in about 4 years.
While at school, John was a "L" Company corporal, 1stSgt, and Captain Company Commander ( OBTW: His TAC Officer was Major Brown). He was Junior Sword Drill and he was on the Dean's List his sophomore and junior years.